Welcome to Granite Barbell
Here at Granite Barbell gym we offer personal training to accomplish all goals and cater to all fitness levels.  We want to crush the stereotype that strength training is just for bulky guys! We provide diversity in all types of training and welcome you to join whether you can lift 5 lbs or 500 lbs. Check out our customer testimonials. Train hard and have fun! Brett
Are you sick and tired of your gym being overcrowded, not having enough weight or living in constant fear of the LUNK alarm? Do you want to get serious about your training? I gave Granite Barbell a try and I'll never train anywhere else again! #Granitebarbellny #Strongman April 2017
Dustin
Brett Somerville is not only a great coach and kind man . He truly cares about his clients. The intensity and positive vibe at Granite is incredible. I am far from a strongman and enjoy being around such a positive group of athletes who all help each other. Brett and coach Taylor Steele have done a lot for me. 56 years old . Spinal surgery and diabetes. I never stop grinding. Gives me an edge in business and life . Much respect to Team Granite Barbell. April 2017
Doug
This gym is the best. Brett Somerville is a fantastic trainer that will get you where you need to go. No joke, I've gained 30 pounds of pure muscle through his programming and my totals have shot way up. In addition to all the bars, racks, and platforms you need, there's a ton of awesome strongman equipment to work with. And everyone is cool! There are no jerks or egos here. April 2017
Ben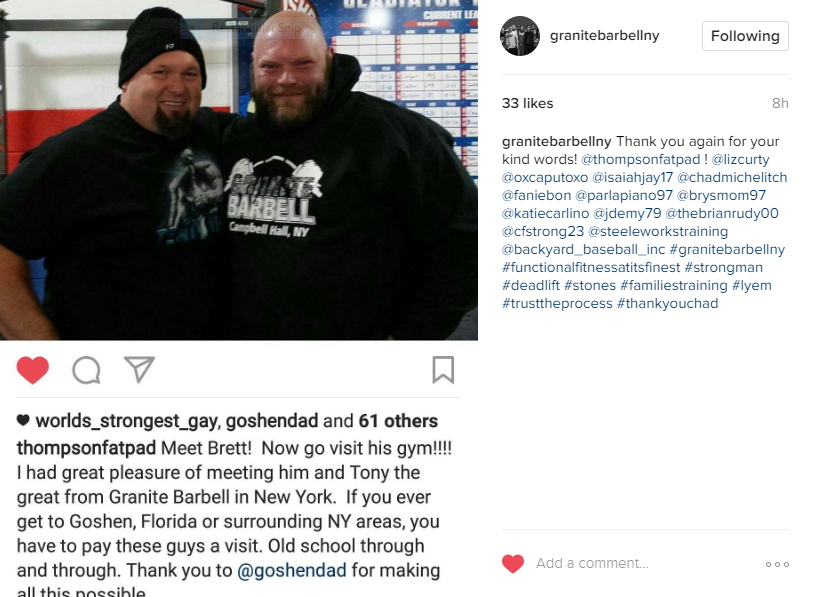 This gym is the best. Brett Somerville is a fantastic trainer who will get you where you need to go. No joke, I've gained 30 pounds of pure muscle through his programming and my totals have shot way up. In addition to all the bars, racks and platforms you need, there's a ton of awesome strongman equipment to work with. And everyone is cool! There are no jerks or egos here. April 2017
Ben
From baby giraffe to slightly more beefy adolescent giraffe. Special thanks to Granite Barbell and Brett Somerville for getting me in the best shape of my life without a bowflex haha. Great gym and an even better trainer. I wish you the best and thank you for always pushing me to be better. ‪#‎granitebarbellny‬ August 14, 2016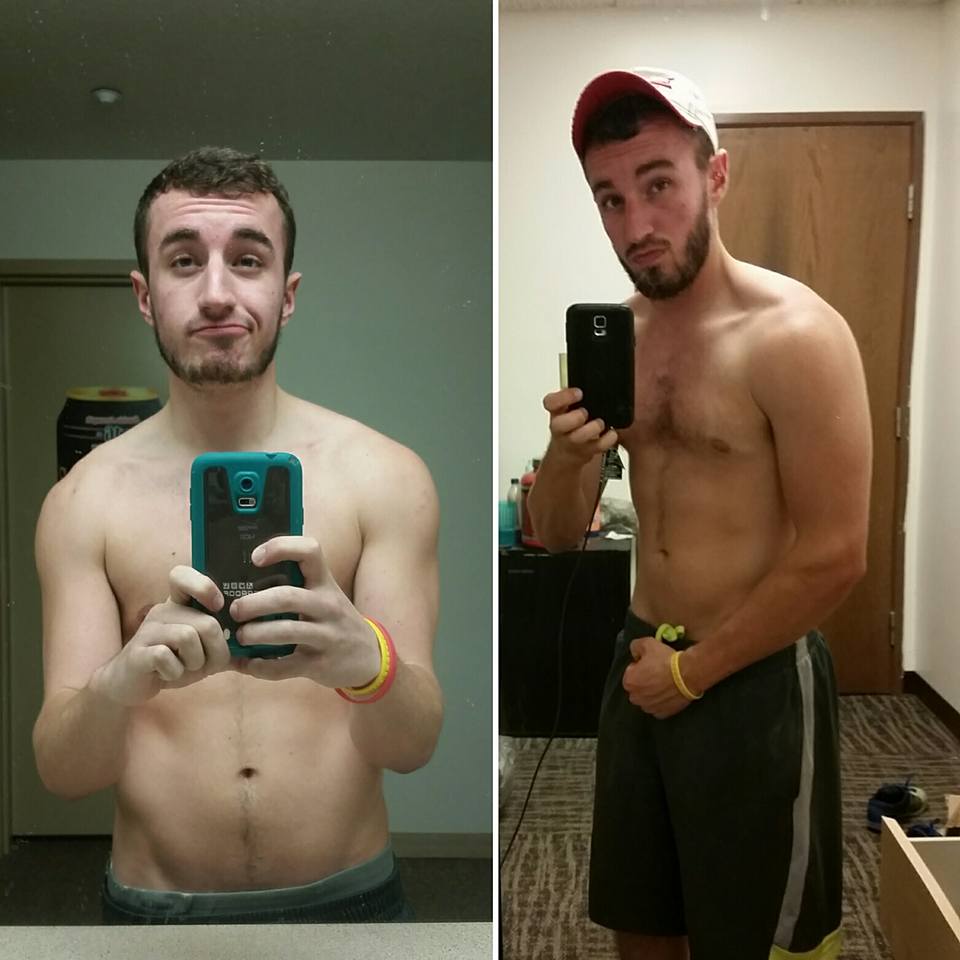 Spencer
The curse has been broken!! Finally nailing 700 lbs on the deadlift, with authority!!!! This weight has plagued me for a long time and after a month and a half at Granite Barbell it's now history. Now the chase for 800 lbs begins . Not bad for a kid that was always told he will never be big enough or strong enough! Thanks Brett Somerville and the people at Granite Barbell!! August 13, 2016
Chad Michelitch
Because of everything I learned over the years, having a determined girlfriend Kelly pushing me to my best and the extreme extent of knowledge Brett Somerville @ Granite Barbell LLC shared with me over 8 months of training with him every Saturday, has led me to a speedy recovery since my surgery. I am deeply grateful and couldn't be happier with this progress. July 30, 2016
Brian Rudy
Feeling very positive today after pushing the weights with Brett Somerville. Truly believe a turning point for me to push more weight. Every workout my goal is better performance. July 28, 2016
Doug Heiferman
Thanks to Brett Somerville and his training programs I can see that I'm gaining more strength and better conditioned as each month passes by looking through my training logs. Thanks bro. July 28, 2016
Matt Page
Well, killed "2 birds" for my son … yesterday he began strength training (for football) with my man Brett Somerville (seriously ppl, he's good. Recommended.)
June 17, 2016
Pablo Rodriguez
A big shout out to Brett Somerville at Granite Barbell. Brett has been working with Jimi as his strength and conditioning coach since winter. After Jimi's lac tournament this weekend first words out of his mouth were…wow working with Brett really pays off. I feel stronger and faster. Thank you Brett!! We saw a difference too!! June 6, 2016
Alanna Buckley Masker
Thank you Brett Somerville and Granite Barbell, have been working out here for about seven weeks, working on rehabbing my knee along with other stuff, it has now been 48 hours with NO KNEE PAIN!!!! Whoooohoooo, first time in 2 years. Thank you, thank you, thank you! June 4, 2016
Debbie Hilgenfeldt
I usually mention a couple specific things when I say come to Granite Barbell and see Brett Somerville.
1) Strongman equipment is fun and we train at all levels.
2) The big guy will give you an assessment and work on not only getting you stronger, but more functional as well; I.e. less pain in your daily life that doesn't have to be there. June 4, 2016
Anthony Collica
I want to say thank you to Brett Somerville. One hell of a workout step by step. Can't wait to continue on this journey. May 10, 2016
Adam Frank Panaro
Brett Somerville you are a f*&%!n genius! Every time you make me pull from the floor I hit a lifetime PR!! I had a little trouble in the beginning of the week but you didn't let my head get in the way. Thank you for making me do it again the next day!!! Check out Granite Barbell and get strongman/strongwoman strong! April 8, 2016
Anthony Figueroa
PR Tuesdays at Granite Barbell, today! Pulled a lifetime personal record for a deadlift single. Thanks for the great coaching Brett Somerville. February 2 2016
‎Anthony Figueroa‎
Back in September, I thought I joined a gym. But I didn't. I joined a family. The motivation and support among this group of people is unreal. After attending (to spectate) my first event today, I can say there are not very many sports where your competitors cheer you on. I have set my own fitness goals and I know with this group, everything is achievable. Thank you, for a great day! We are missing a few who cut out early. Strongest Man and Woman in New York with Brett Somerville, Anthony R Collica, Anthony Buzzeo, Kevin Fu, Dave Babcock, Liz Curtis, Brian Rudy. January 16 2016
Katrina M
The end of October, I joined a gym, not just any gym, but a Gym that offers one on one training and personalized workouts. Unlike most people, I don't dread going to the gym! I love working out, its my new hobby. I do it because I like it and I like the way it makes me feel.   I love Brett and the atmosphere in the gym. It has been a life change for me. Working out has inspired me to eat healthier and cut back my drinking, from almost daily to once a week. Brett's programs are different each week and he is so motivating. He makes me believe in myself! If these are the changes in just 2 months, I can't wait to see what the rest of the year will bring!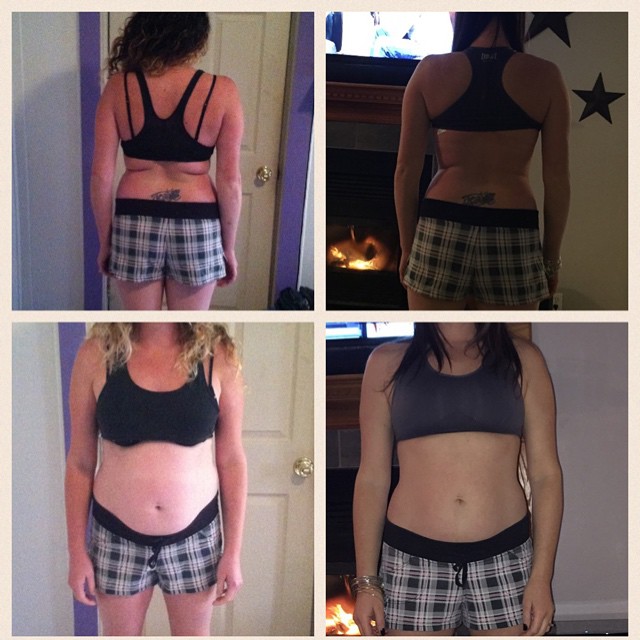 January 6 2016
Jessica C
I know it's that time of year for resolutions and all.. I just want to give a recommendation on a great local gym. I started with them back in September and I could not be any happier. Not only have I lost weight and toned, I've built up my strength and I feel GOOD about myself. If you're looking for a great gym with a great coach and positive atmosphere you need to stop in and talk to Brett Somerville at Granite Barbell. Yes it's a strongman gym. But it's not a meathead gym. He will customize workouts to YOU and push you to limits you didn't know you had. He has helped me overcome issues I've had with my hips as well as the hyper mobility in my shoulders. Lifting weights won't make you bulky. It won't make you manly. It will make you toned and HOT. This is a locally owned and run gym in Campbell Hall. Stop in and say hi! Come try it for a day. I promise you won't be disappointed! December 30 2015
Katrina M
Down another dress size and pant size. Thank you Brett Somerville! December 26, 2015
Liz
Thanks for the great workout today, Brett Somerville, and for introducing me to Strongman lifting…see you soon! December 22, 2015
Anthony Figueroa
Just wanted to give a big thank you to Brett Somerville for working with me to make me stronger going into my surgery tomorrow!! My recovery will be easier because of you!! December 21, 2015
Heidi M
Good times lifting with Brett Somerville. Awesome coach if you're looking to get stronger. December 2015
Mike Doehla
Up at Brett Somerville's gym! If you're in the NY state/North NJ area, come check it out and get coaching by a top heavyweight strongman competitor. December 2015
Zach Gallmann
Granite barbell with Brett Somerville…. Where you go to get strong! Check out Granite Barbell. December 2015
Brian R
Thank you Brett Somerville! Deadlift 205lbs and I feel good!! I've come a long way in a few short months!! December 2015
Katrina M
Thanks for the great coaching and inspiration! December 2015
Anthony
Thank you Brett Somerville and Granite Barbell for helping me achieve more than I thought I could. In three months I went from struggling to hit 135 to lifting 200. I'm so grateful. Thank you Brett Somerville for helping me achieve my goals. December 2015
Liz
I think I found my hobby. I love working out. Can't wait to work out again thanks to Brett Somerville. November 2015
Jessica
Fun workout tonight at Granite Barbell! I've only just started and I'm already feeling so much better! Thanks Brett! November 2015
Heidi
Great staff. Terrific programs and classes. November 2015
Ronald
Awesome atmosphere. October 2015
Dave
Brett is great, you'll love him. So go check out Granite Barbell for yourself!!!!! October 2015
Shirley
Thanks Brett Somerville for an awesome workout. Pretty excited about my dead lifts today. Bring on 200!If anyone is looking for a great gym to get back in shape I highly recommend Brett over at Granite Barbell! October 2015
Katrina
I feel stronger every workout … please contact Brett Somerville. His programming has done wonders for me in just a short period of time. I've only been doing his programming for 11 weeks and I'm going to attempt a 700 pound dead lift already next week and I've set PRs in strict presses and clean and presses and….you know I could go on and on…..get on Facebook and get after it and start making gains with one of the nicest guys in the business.  Brett Somerville for president!!!!:) October 2015
Matt
To all of my friends, if you or your family are interested in getting fit or training specific for a sport. This is the place and Brett is the guy. Kyle went to Brett for football to build up his strength and agility, Becca went to Brett to work on her legs and core muscles in the off season and what a difference she sees and feels after a long day on the horse. Me, I went and now I've competed in a Strongman competition. Who would have thought that. Lol this is a family oriented place with a trainer who will help you meet your goal, what ever that may be. October 2015
Dawn-Lyn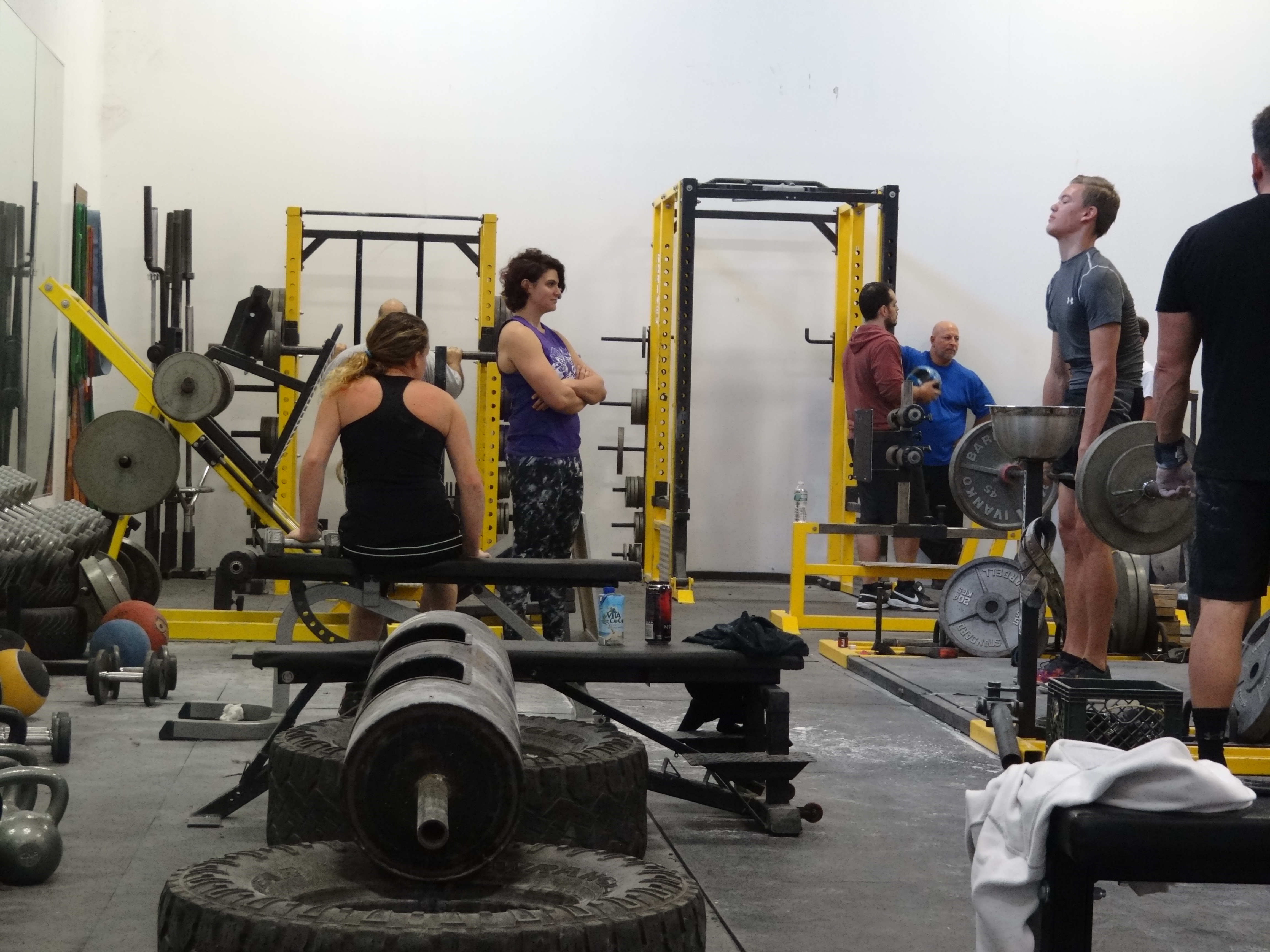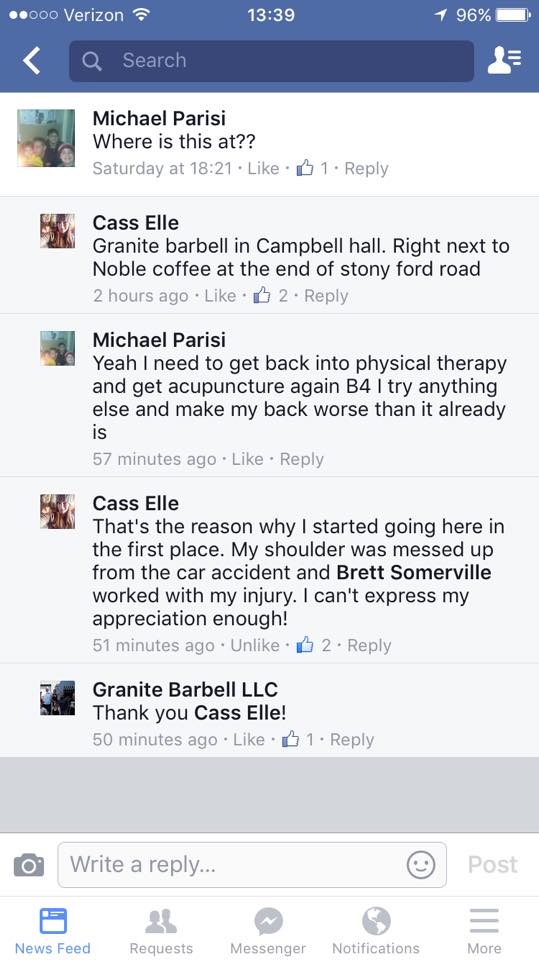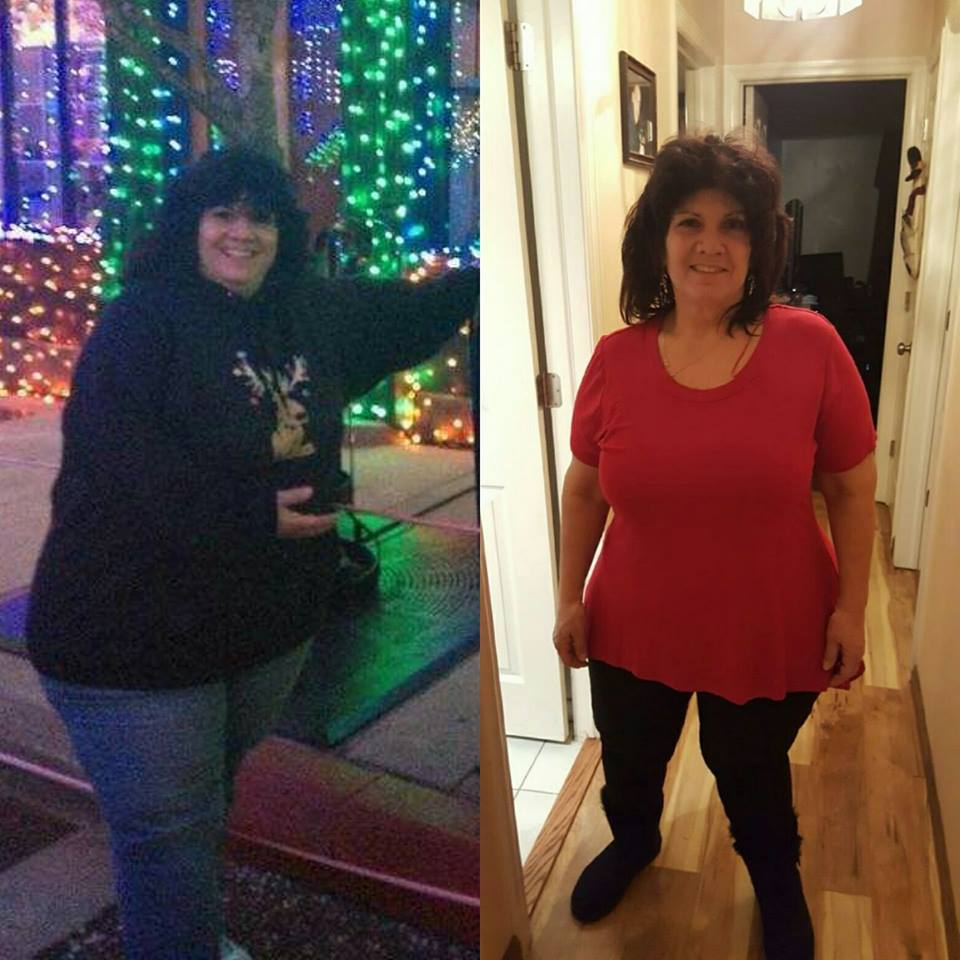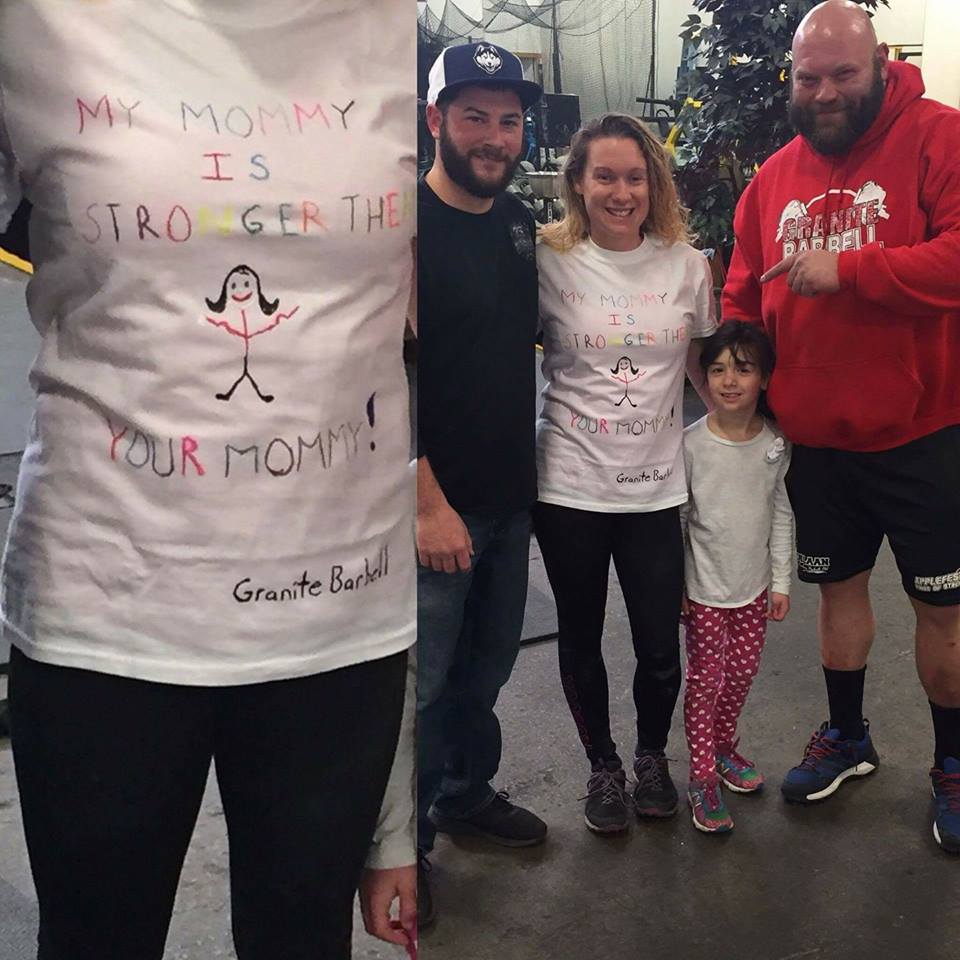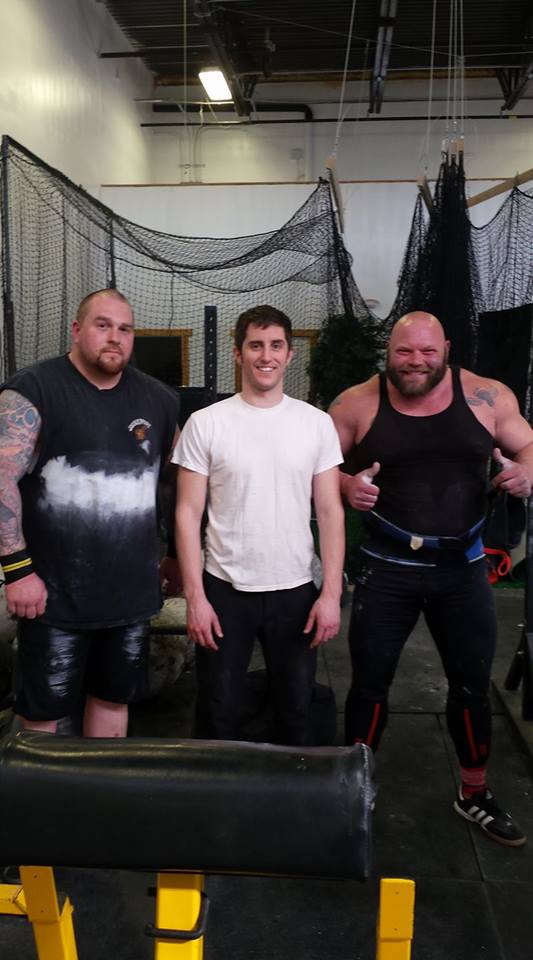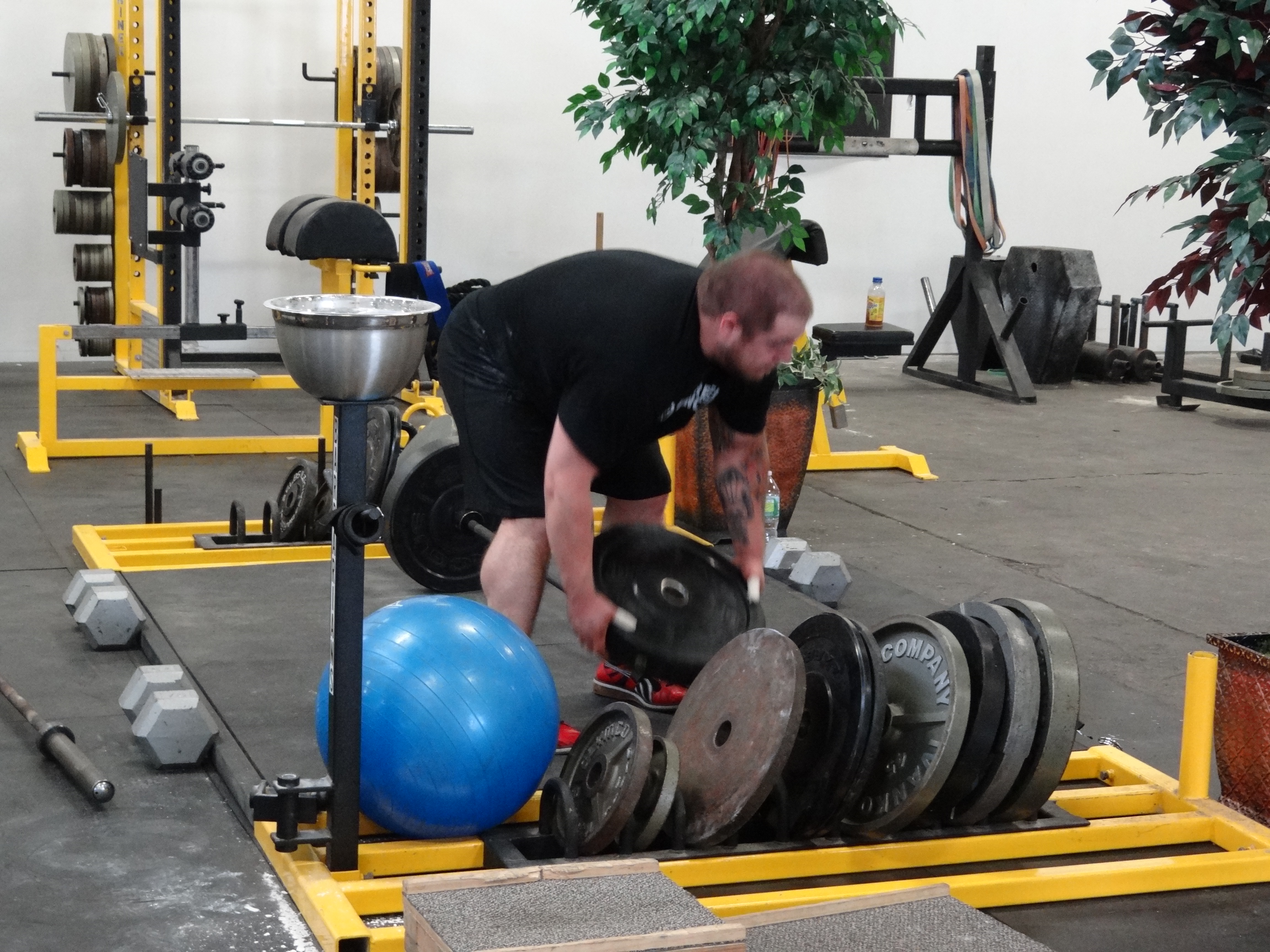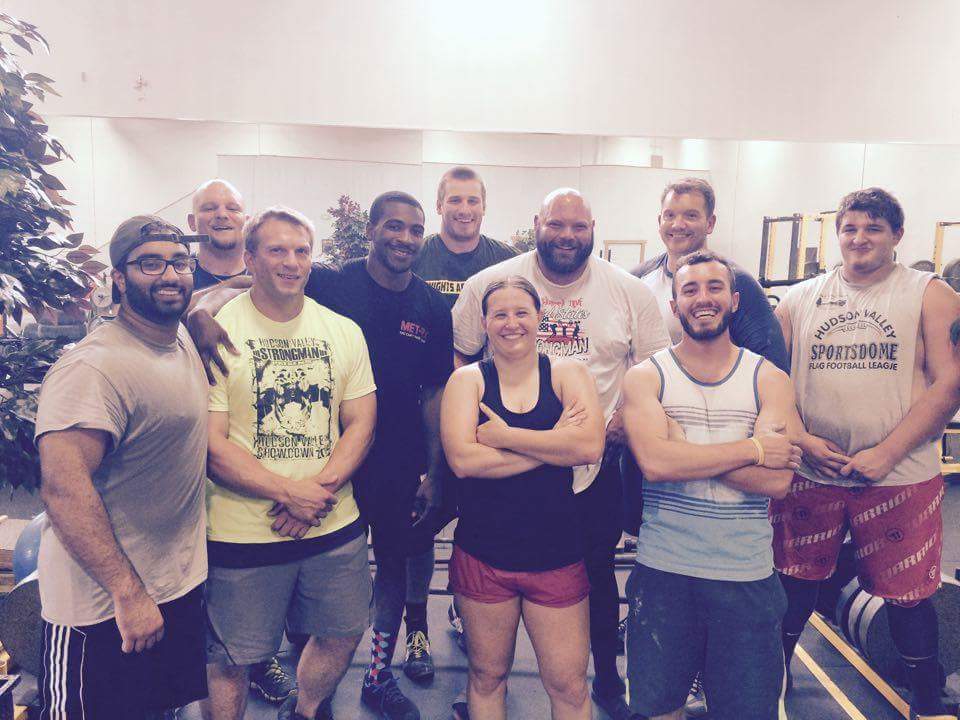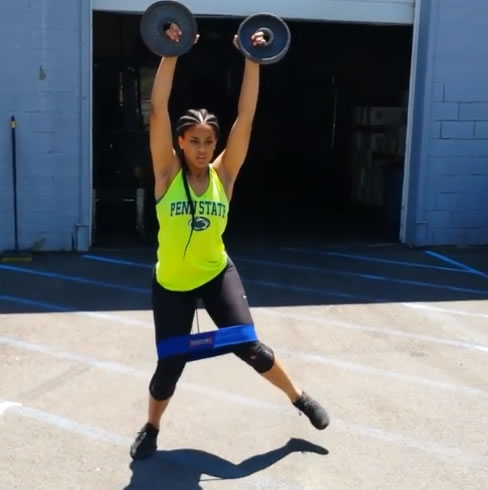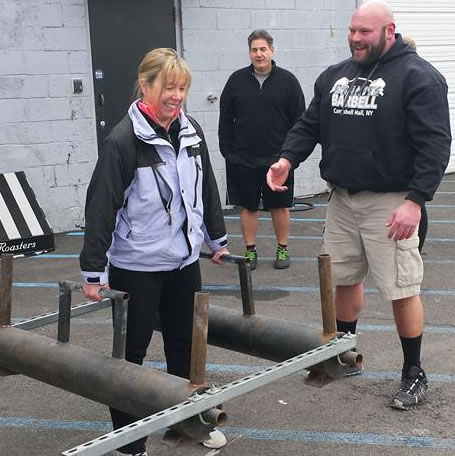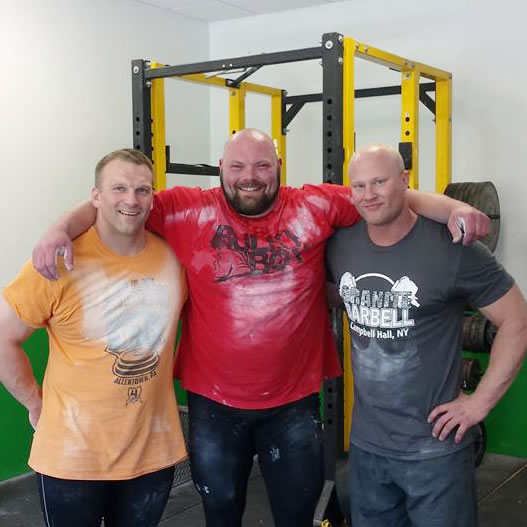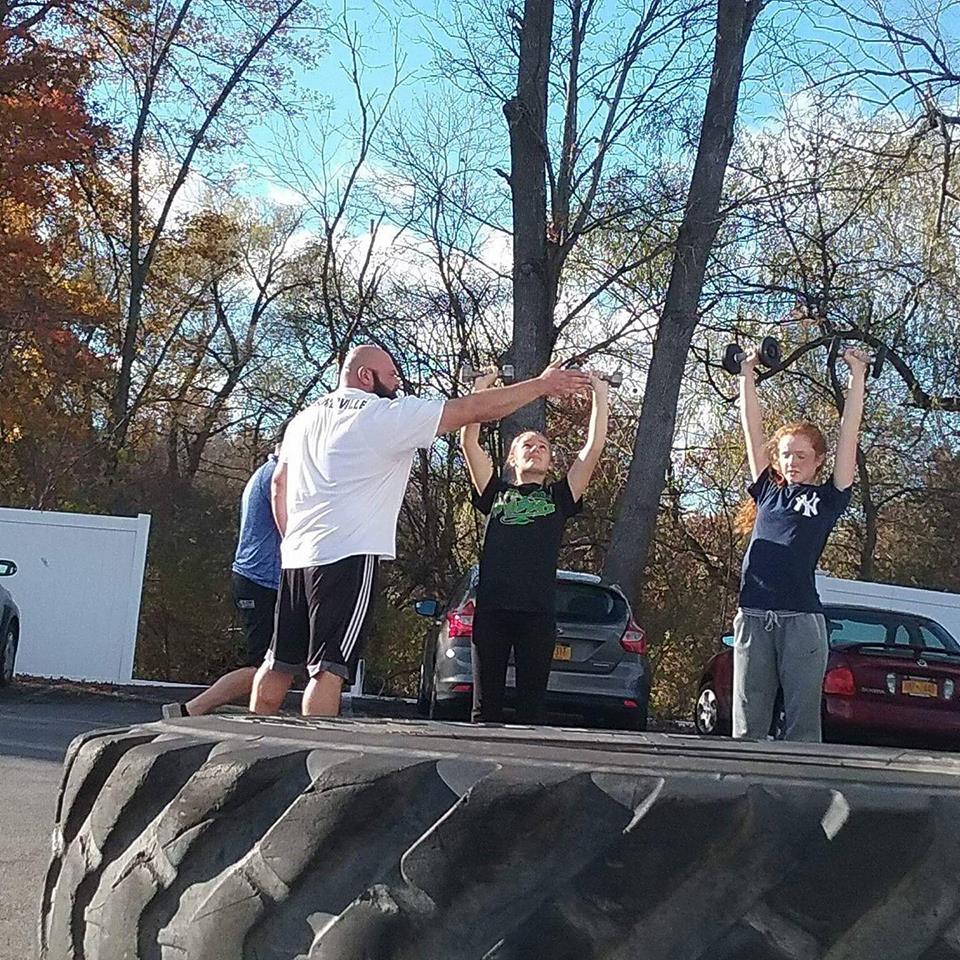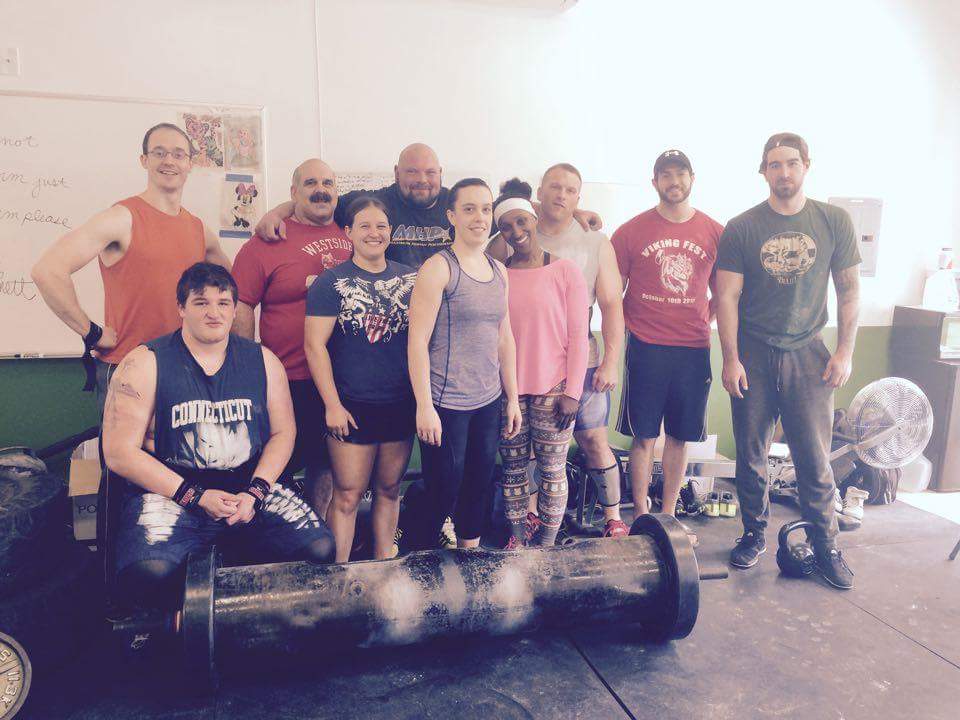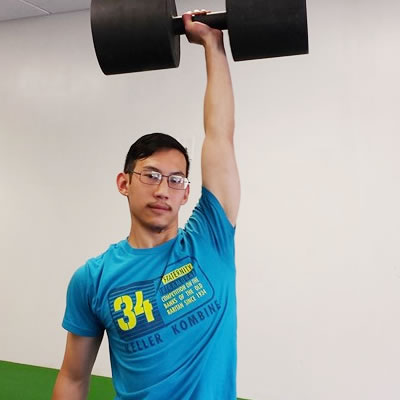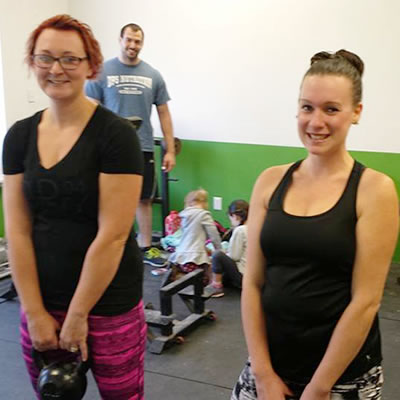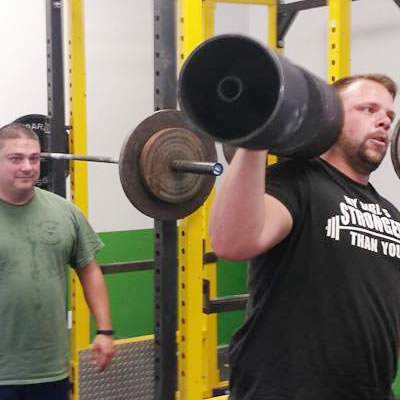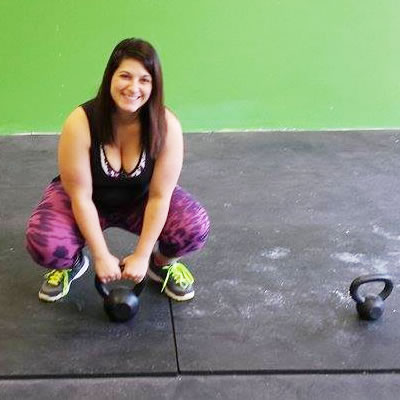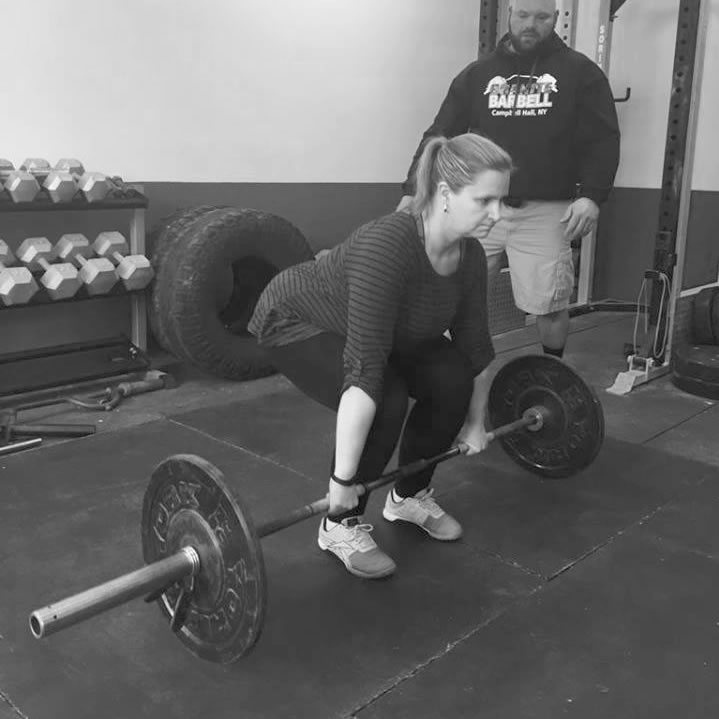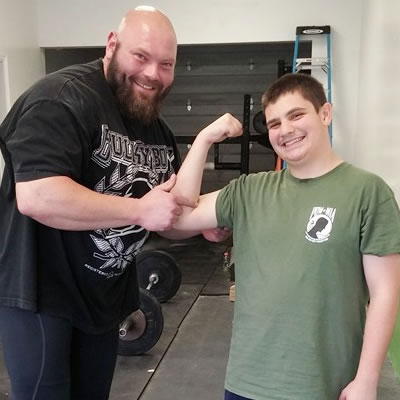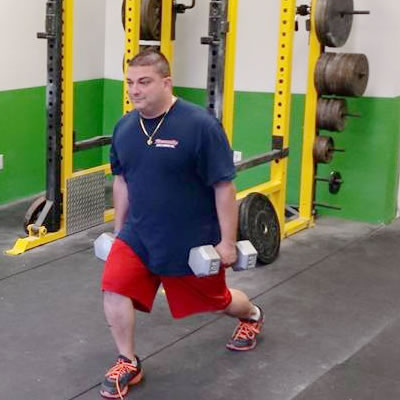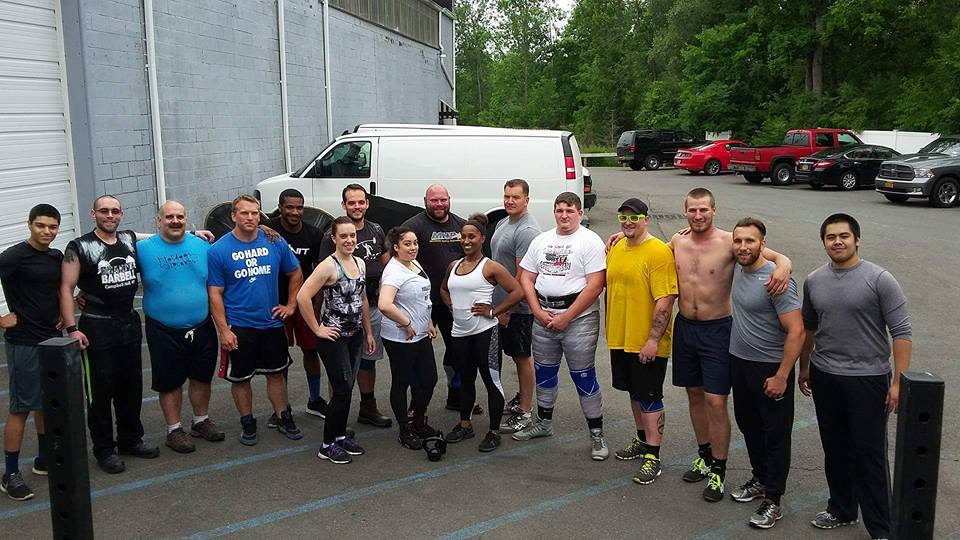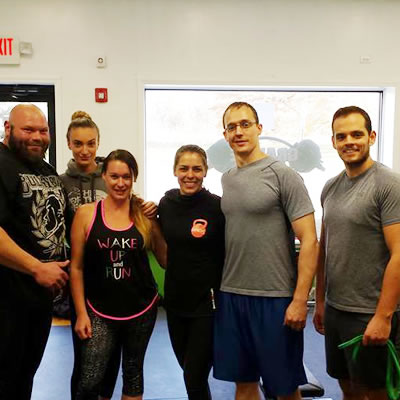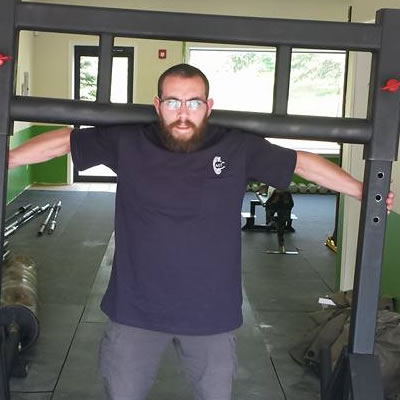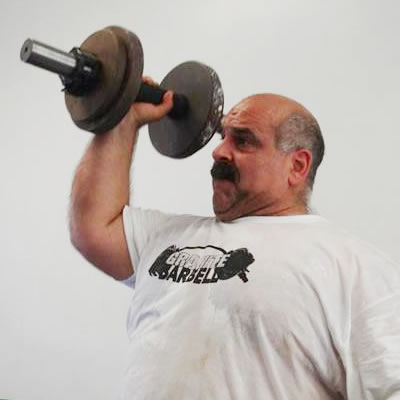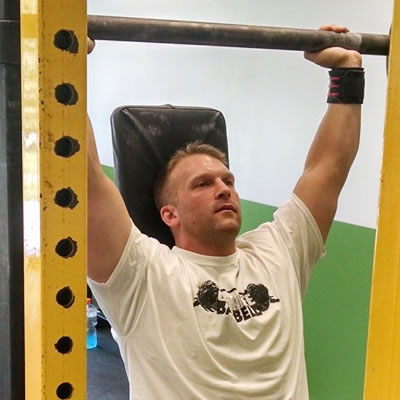 Copyright 2017 Granite Barbell LLC.  All rights reserved.