Strong man Somerville inspires trainees to go over their heads
Granite Barbell gets heavy every Saturday at a gym that feels like family
Published Mar 31, 2016 at 10:15 am (Updated Apr 1, 2016)
The Chronicle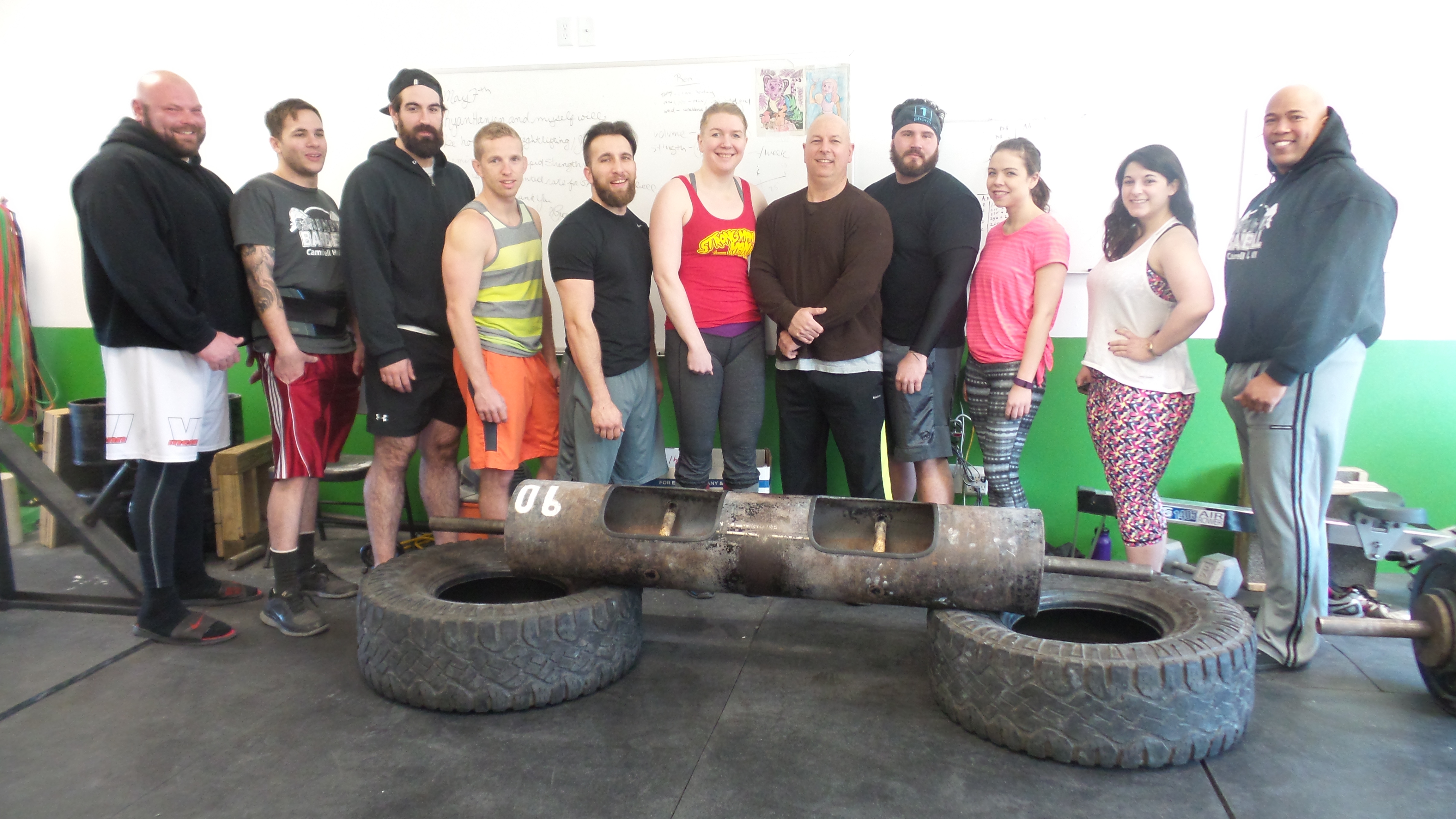 From left: Brett Somerville, Mike Smith, Jordan Knox, Joe Finneran, Ryan Debeauvernet, Linnea Hartsuyker, Ed Nekvapil, Brian Rudy, Shannon Sansome Liz Curtis, and Al Pizarro behind the log (Photo by Frances Ruth Harris)
CAMPBELL HALL — When Brett Somerville was 10 years old, his dad gave him a weight set because he was too chubby. He hasn't looked back since.
Now, Somerville runs with 950 pound yokes. He's not only a trainer, he's an accomplished competitor. He's won top awards in strength competitions across the country, including North America's Strongest Man (2012). He's also community-minded, co-sponsoring fundraising shows for good causes like autism awareness and domestic abuse.
Those who come to Somerville's Granite Barbell in Campbell Hall for individual training say they like the congenial atmosphere. They say it's different from a typical gym. The results are plain to see:
Mike Smith lifts a frame with four added weights, totaling 390 pounds, and holds it up for 10 seconds. He also lifts and carries a 305-pound yoke across the parking lot.
Joe Finneran swings 40-pound kettle bells with ease.
Linnae Hartsuyker lifts the 90-pound log over her head, then adds more weight. Next she lifts 145 pounds over her head. She regularly totes heavy stone balls around.
Ed Nekvapil picks up the 90-pound log with ease, while Al Pizarro lifts it over his head.
The gym has lots of heavy stuff to lift up and set down. Logs, axles, yokes, frames, stones, and circus dumbbells in a range of weights challenge strong men and strong women every Saturday at Granite Barbell. An atlas stone weighs from 80 to 400 pounds. Deadlifts can be over 800 pounds.
Those in training say weight training is a total body exercise, but many also say it's the ultimate mental lift.
Granite Barbell is located at 3020 NY-207, Campbell Hall. To find out more visit granitebarbellny.com.
See related story: "Local strongmen against domestic abuse"
Why they lift
The trainees at Granite Barbell say lifting weights:
Helps you lose fat
Makes you strong
Reduces your risk of injury by improving balance and flexibility
Releases feel-good endorphins
Reduces stress
Makes workouts more fun
Copyright 2017 Granite Barbell LLC.  All rights reserved.